Eric Johnson
Sweet sound from heart !
(Photo tir?e du magnifique DVD
Anaheim Live (2008)
)
Eric Johnson (born August 17, 1954) is an American guitarist and recording artist from Austin, Texas.
Best known for his success in the instrumental rock format, Johnson regularly incorporates jazz, fusion, New Age, and country and western music into his recordings.
Widely recognized for his guitar skills, Johnson's stylistic diversity and technical proficiency have drawn praise from Carlos Santana, Eric Clapton, Allan Holdsworth, Larry Carlton, Steve Morse, Billy Gibbons, Johnny Winter, Jeff Baxter, Prince, B. B. King, Rusty Burns, Joe Satriani and the late Stevie Ray Vaughan. His critically-acclaimed, platinum selling 1990 recording Ah Via Musicom produced the single "Cliffs of Dover," for which Johnson won the 1991 Grammy Award for Best Rock Instrumental Performance.





Quelques merveilles

Live at the Bottomline :

Studio Version :
** Summer Jam **
Live at the grove :
Studio Version :


Ses guitares, ses effets, ses amplis.
** Studio Interview Effect **
** Signature Strat Interview **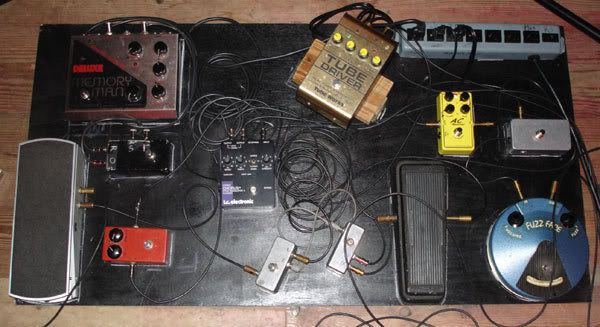 (de gauche ? droite) :

-Ernie Ball p?dale de Volume
-EHX MemoryMan et en dessous sa boucle d?di?e
-MXR DynaComp
-TC Elec. Chorus
-les switchs "maison":Clean/Rythm, Rythm/Lead
-BK Tube Driver
-CryBaby Wah
-Xotic AC Booster
-Dallas Arbiter Fuzz Face
-switch de mute
[quote2]
CLEAN
Echoplex
Deluxe Memory Man (used with a true bypass loop)
TC Stereo Chorus out stereo to two Twin Reverbs
OVERDRIVE
Fuzz Face
Tube Screamer
MXR Flanger/Doubler (on floor in rack-used with a true bypass loop)
MXR Digital Time Delay 1000ms (in big rack, also has switch for repeat hold on pedalboard)
Dumble Steel String Singer (amp also has multiple channels and functions that EJ could switch from a small wooden pedal above the TS808 on his board. Lots of tone options.)
LEAD
Wah Wah
Tube Screamer or Tube Driver (both in rack depending on the day!)
Echoplex
Fender Spring Reverb (he stopped using it later and opted to get reverb from the house)
1968 or 69 100-watt plex[/quote2]